Tom Riddle's wand
History information
Manufacturer:
Owner:

Tom Riddle Jr.

Bought:

1938

Material information
Wood:
Core:
Length:

13½"
Voldemort's wand was purchased sometime around 1938 from Garrick Ollivander, shortly after Dumbledore told him he was a wizard. Both Voldemort and Harry's wand have a phoenix feather core, both from Fawkes, Dumbledore's phoenix. The twin cores are the reason Harry did not die in the Battle of Little Hangleton.
Description
The wand appears to be bone-like, although it was not described like that in the book series, and has small holes similar to the ones on the Elder Wand. It sometimes appears with a brown tip.
History
Use at Hogwarts
The wand was not used much at Hogwarts that we know of, mainly because Voldemort used the Elder Wand during the Battle of Hogwarts. He did, however, use it in a duel against Dumbledore during the Battle of the Department of Mysteries.
Known Masters
Appearances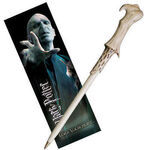 Harry Potter and the Sorcerer's Stone
Harry Potter and the Sorcerer's Stone (Film)
Harry Potter and the Chamber of Secrets (Film)
Harry Potter and the Prisoner of Azkaban (Video game)
Harry Potter and the Goblet of Fire
Harry Potter and the Goblet of Fire (Film)
Harry Potter and the Goblet of Fire (Video game)
Harry Potter and the Order of the Phoenix
Harry Potter and the Order of the Phoenix (Film)
Harry Potter and the Order of the Phoenix (Video game)
Harry Potter and the Deathly Hallows
Harry Potter and the Deathly Hallows Part 1 (Film)
Harry Potter and the Deathly Hallows Part 1 (Video game)
Harry Potter and the Deathly Hallows Part 2 (Film)
LEGO Harry Potter Years 1-4
LEGO Harry Potter Years 1-4
Barnes & Noble pens
References
External Links

Tom Riddle's wand on the Harry Potter Wiki