Phoenix feather
Core information
Manufacturer:

Phoenix

Usage:

Wand cores
Phoenix's
warmth
Warning sign
Quills

Color:

Orange/Red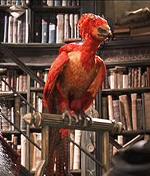 A Phoenix feather is a feather of a phoenix, an immortal orange/red bird. It is developed by phoenixes and used for their warmth. By humans, it is used as warning signs, quills, and, most recognizably, wand cores.
Ollivander's Description
Edit
Garrick Ollivander described these feathers to be the rarest of the Supreme Cores. They are capable of the widest range of magic, but take longer than Dragon Heartstrings and Unicorn Hairs to reveal this.
Known Users
Edit
Appearances
Edit
Harry Potter and the Philosopher's Stone
Harry Potter and the Philosopher's Stone (Film)
Harry Potter and the Chamber of Secrets
Harry Potter and the Chamber of Secrets (Film)
Harry Potter and the Chamber of Secrets (Video game)
Harry Potter and the Goblet of Fire
Harry Potter and the Order of the Phoenix
Harry Potter and the Order of the Phoenix (Film)
Harry Potter and the Half-Blood Prince
Harry Potter and the Half-Blood Prince (Film)
Harry Potter and the Deathly Hallows
Harry Potter and the Deathly Hallows Part 1 (Film)
Pottermore
References
Edit