Mad-Eye's wand
History information
Owner:

Alastor Moody

Characteristic information
Special abilities:
Little is known about Mad-Eye's wand. It is possible that Barty Crouch Jr. stole it from Alastor in 1994.
Description
Edit
The wand looks like a small tree with a red ball on the end. Its shape is similar to Professor Lupin's wand. There are small metal rings in various locations.
Use at Hogwarts
Edit
Madeye (Actually Barty Crouch Jr. using Polyjuice) used this wand to demonstrate the three unforgivable curses to 4th year students. The wand also served many important roles during the Battle of the Department of Mysteries and the Battle of the Seven Potters, which happened to be when Alastor's death occurred.
Known Masters
Edit
Alastor Moody
Barty Crouch Jr. (Most likely)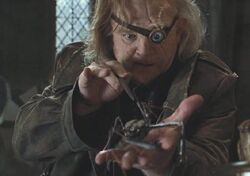 Appearances
Edit
Harry Potter and the Goblet of Fire
Harry Potter and the Goblet of Fire (Film)
Harry Potter and the Goblet of Fire (Video game)
Harry Potter and the Order of the Phoenix
Harry Potter and the Order of the Phoenix (Film)
Harry Potter and the Order of the Phoenix (Video game)
Harry Potter and the Half-Blood Prince
Harry Potter and the Deathly Hallows
Harry Potter and the Deathly Hallows Part 1 (Film)
LEGO Harry Potter Years 1-4
LEGO Harry Potter Years 5-7
Pottermore
References
Edit