"Point me!"
This article is about Luna's original wand. You may be looking for her new wand.
Luna Lovegood's first wand
History information
Owner:

Luna Lovegood

Bought:

1992

Material information
Wood:

Ash (Most likely)

Characteristic information
Special abilities:
Little is known about Luna Lovegood's first wand, although it is possible that the wood was Ash because Luna obviously was not driven away from her beliefs.
Use at Hogwarts
Edit
Luna was able to perform advanced magic with this wand; she produced a full Patronus at the age of 14. She was able to cast other advanced spells throughout her membership of Dumbledore's Army.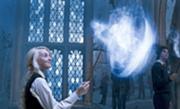 Appearances
Edit
Harry Potter and the Order of the Phoenix
Harry Potter and the Order of the Phoenix (Film)
Harry Potter and the Order of the Phoenix (Video game)
Harry Potter and the Half-Blood Prince
Harry Potter and the Half-Blood Prince (Film)
Harry Potter and the Half-Blood Prince (Video game)
Harry Potter and the Deathly Hallows
References
Edit