Hermione Granger's wand
History information
Manufacturer:
Owner:

Hermione Granger

Bought:

1991

Material information
Wood:
Core:
Length:

10¾"
Hermione Granger's wand was purchased in 1991 from Garrick Ollivander. It was made sometime before that.
Description
The wand seems to have small leaf/vine designs not engraved in it, but placed on top of it. The designs appear to be the same wood, and the rest of the wand may have been carved around them. Overall, the wand appears to be very thick and it is most likely not flexible.
History
Use at Hogwarts
As you know, Hermione is a magic nerd. She used her and for many things, including Ron Weasley's assistance with learning the Wingardium Leviosa charm. The wand also served an important role during the Battle of the Room of Requirement and the Battle of Hogwarts.
Behind the Scenes
Hermione's wand is one of the few wands that does not have a handle.
When Kate Middleton visited the Warner Bros. Studios Leavesden, she started a fight with her husband, Prince William, and used Hermione's wand to do so.
Appearances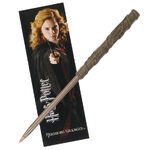 Harry Potter and the Sorcerer's Stone
Harry Potter and the Sorcerer's Stone (Film)
Harry Potter and the Chamber of Secrets
Harry Potter and the Chamber of Secrets (Film)
Harry Potter and the Prisoner of Azkaban
Harry Potter and the Prisoner of Azkaban (Film)
Harry Potter and the Prisoner of Azkaban (Video game)
Harry Potter and the Goblet of Fire
Harry Potter and the Goblet of Fire (Film)
Harry Potter and the Goblet of Fire (Video game)
Harry Potter and the Order of the Phoenix
Harry Potter and the Order of the Phoenix (Film)
Harry Potter and the Order of the Phoenix (Video game)
Harry Potter and the Half-blood Prince
Harry Potter and the Half-blood Prince (Film)
Harry Potter and the Deathly Hallows
Harry Potter and the Deathly Hallows Part 1 (Film)
Harry Potter and the Deathly Hallows Part 1 (Video game)
Harry Potter and the Deathly Hallows Part 2 (Film)
LEGO Harry Potter Years 1-4
LEGO Harry Potter Years 5-7
Barnes & Noble pens
References
External Links

Hermione Granger's wand on the Harry Potter Wiki