Harry Potter's wand
History information
Manufacturer:
Owner:

Harry Potter

Made:

1938 (Possibly)

Bought:

1991

Broken:

1997

Repaired:

1998

Material information
Wood:
Core:
Length:

11"

Characteristic information
Flexibility:

Nice and supple

Special abilities:
Harry: "I don't want it."
Ron: "What? Are you mental?"
Harry: "I know it's powerful. But I was happier with mine."
— Harry giving up the Elder Wand in favor of his own
Harry Potter's wand was possibly (and most likely) created around 1938. It was purchased from Garrick Ollivander in 1991, which happened to be Harry's first year at Hogwarts. Its wood is Holly and its core is a phoenix feather. Ollivander stated that was an unusual combination, which may be the source of Harry's amazing power. The core was donated by Fawkes, Dumbledore's pet phoenix. Fawkes also donated a feather to Voldemort's wand, making his and Harry's wands brothers with twin cores.
Description
The wand looks sort of like a burnt tree, with a black handle and brown tip. The handle has small bumps in a few locations. In the first two films, it appears to be quite thick and tall, which changed when Alfonso Cuarón, the director of Harry Potter and the Prisoner of Azkaban, allowed Daniel Radcliffe to choose a wand that seemed to fit his personality.
History
Use at Hogwarts
Harry used his wand many times, mostly at Hogwarts, because he had the trace on him until he was seventeen, which is the age a wizard is considered "of age." He did use it outside of Hogwarts on some occasions, though. In the 1994-1995 school year, he used it in the Triwizard Tournament many times, such as summoning his firebolt, stunning Victor Krum (who was under the Imperius Curse), and sending red sparks in the sky in order to rescue Fleur Delacour. His wand was not, however, used in the Final Battle because Harry was using Draco Malfoy's wand, which he obtained during the brief duel at the Malfoy Manor. It is unknown what he did with Draco's wand.
Broken
Hermione: "You're still really angry at me, aren't you?"
Harry: "No. No, Hermione, I know it was an accident. You were trying to get us out of there alive, and you were incredible. I'd be dead if you hadn't been there to help me."
— Harry and Hermione discuss the destruction of Harry's wand
On Christmas eve of 1997, Hermione Granger revealed to Harry that his wand had broken during their duel against Nagini, who was in disguise of Bathilda Bagshot. Between the time his wand was destroyed and repaired, Harry used a snatcher's wand that Ron Weasley stole. That did not work out very well, because Ron was the true master of the wand being the person to disarm the snatcher.
Repaired
As his wand resealed, red sparks flew out of its end. Harry knew that he had succeeded. He picked up the holly and phoenix wand and felt a sudden warmth in his fingers, as though wand and hand were rejoicing at their reunion.
— Description of the wand's repair.
Harry repaired his wand in 1998 using the Elder Wand shortly after the Battle of Hogwarts, and shortly before the Elder Wand's destruction. The Elder Wand happened to be the only wand capable of repairing other wands, because of its extreme power.
Behind the Scenes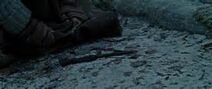 | | |
| --- | --- |
| | "It was not an arbitrary decision: holly has certain connotations that were perfect for Harry, particularly when contrasted with the traditional associations of yew, from which Voldemort's wand is made. European tradition has it that the holly tree (the name comes from 'holy') repels evil, while yew, which can achieve astonishing longevity (there are British yew trees over two thousand years old), can symbolise both death and resurrection; the sap is also poisonous. Some time after I had given Harry his holly-and-phoenix wand I came across a description of how the Celts had assigned trees to different parts of the year and discovered that, entirely by coincidence, I had assigned Harry the 'correct' wood for his day of birth. I therefore decided to give Ron and Hermione Celtic wand woods, too... I liked having a hidden connection between Harry, Ron and Hermione's wands that only I knew about (until now, anyway)." |
J.K.Rowling did not have much trouble coming up with the wood for Harry's wand.
Harry's wand is sometimes 14 inches long.
According to the film adaption of Harry Potter and the Sorcerer's Stone, the wand is #963 on Mr. Ollivander's shelves.
In the films, Harry's wand is shown with a dark wood even though Holly is Birch-colored.
Appearances
Harry Potter and the Sorcerer's Stone
Harry Potter and the Sorcerer's Stone (Film)
Harry Potter and the Sorcerer's Stone (Video game)
Harry Potter and the Chamber of Secrets
Harry Potter and the Chamber of Secrets (Film)
Harry Potter and the Chamber of Secrets (Video game)
Harry Potter and the Prisoner of Azkaban
Harry Potter and the Prisoner of Azkaban (Film)
Harry Potter and the Prisoner of Azkaban (Video game)
Harry Potter and the Goblet of Fire
Harry Potter and the Goblet of Fire (Film)
Harry Potter and the Goblet of Fire (Video game)
Harry Potter and the Order of the Phoenix
Harry Potter and the Order of the Phoenix (Film)
Harry Potter and the Order of the Phoenix (Video game)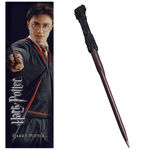 Harry Potter and the Half-blood Prince
Harry Potter and the Half-blood Prince (Film)
Harry Potter and the Half-Blood Prince (Video game)
Harry Potter and the Deathly Hallows
Harry Potter and the Deathly Hallows Part 1 (Film)
Harry Potter and the Deathly Hallows Part 1 (Video game)
Harry Potter and the Deathly Hallows Part 2 (Film)
Harry Potter and the Deathly Hallows Part 2 (Video game)
LEGO Harry Potter Years 1-4
LEGO Harry Potter Years 5-7
Barnes & Noble pens
Pottermore
References
External Links

Harry Potter's wand on the Harry Potter Wiki