Cho Chang's wand
History information
Owner:

Cho Chang

Bought:

1990

Characteristic information
Special abilities:
Cho Chang's wand was purchased in 1990 and made sometime before, most likely from Ollivander's Wand Shop.
Description
Edit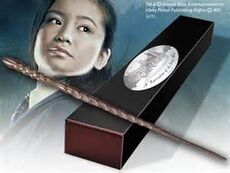 This wand is licorice-looking, which is ironic because there are candies called Licorice Wands.
Use at Hogwarts
Edit
Cho Chang performed a wide variety of magic, because of her membership of Dumbledore's army.
Behind the Scenes
Edit
In the Noble Collection, the wand is shown to have a thinner handle and a light-brown color.
Appearances
Edit
Harry Potter and the Order of the Phoenix
Harry Potter and the Order of the Phoenix (Film)
Harry Potter and the Order of the Phoenix (Video game)
Harry Potter and the Half-Blood Prince
Harry Potter and the Half-Blood Prince (Film)
Harry Potter and the Deathly Hallows
LEGO Harry Potter Years 1-7
References
Edit