Cedric Diggory's wand
History information
Manufacturer:
Owner:

Cedric Diggory

Bought:

1988

Material information
Wood:
Core:
Length:

12¼"

Characteristic information
Flexibility:

Pleasantly springy
Cedric Diggory's wand was purchased in 1988 and made any time before by Garrick Ollivander.
Description
Edit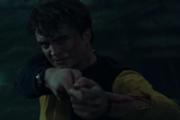 The wand appears to be smooth and basic, or easy to hold. It is light except for the tip, which is black. It has pizza-shaped designs at the handle.
Use at Hogwarts
Edit
This wand was primarily used during the Triwizard Tournament. It particularly helped Cedric in the 3rd Task, where there were a number of creatures inside a large maze. Cedric's success in the maze lead to his death, and the re-mastery of his wand.
Known Masters
Edit
Behind the Scenes
Edit
Although Peter Pettigrew was the new master, Cedric was buried with the wand.
Appearances
Edit
Harry Potter and the Goblet of Fire
Harry Potter and the Goblet of Fire (Film)
LEGO Harry Potter Years 1-4
References
Edit